Hello all 🙂
After 5 months of living out of my Jeep (ok…147 days), I have taken a huge leap to the next step in my quest for off-grid tiny living. While a 60 sq ft jeep is off-grid tiny living in its own right (right?), I made a decision several weeks ago to further my plan.
I recently left Colorado for the San Juan Islands off the Pacific Northwest coast of Washington.
I gave notice to my employer well before I found a job or a place to sleep. I also did not know a soul on the island (of course that has now changed). One of the reasons I chose this place was because of its quieter, small town living, but also because the island has few restrictions on tiny homes – and let's face it – major eye candy for this girl with roots along the Maine coast.
There is not one traffic signal here, and the speed limit through most of town is 25 mph (goodbye I-25 insanity, Arapahoe Road's perpetual sea of brake-lights and  general mind numbing commutes ).  I have been warned that the spring/summer tourist traffic may turn into frustration as the Ferry vehicles get the right-of-way all day, everyday, but I can live with that. It's a good thing that I can walk the 4 blocks to my job, and to downtown.  Believe me, I'll adjust.
Before I secured a room to rent, I was completely planning to continue my Rubber Tramp ways.  However, I am now well aware that it may not have been feasible in a small town population.  You can successfully "hide" in plain site in a large Metropolitan area – much less so in a small coastal village where "everybody knows your name.." (c'mon sing it with me now). Much sooner, rather than later, people would begin to ask themselves what the Jeep with Colorado plates is doing parked all over town….  so much for anonymity.
It's a bit strange to have a room now, with a bed. I have woken up more than once these past few weeks with that "where the hell am I?" feeling. But, I am getting used to it.  As luck would have it, I had a job interview by phone a week or so before I left Denver, and subsequently secured a room to rent in a large home in town.  While I was not offered the job during said phone interview, I was given the position 2 days after my arrival when I met with the employer in person. It's amazing how things just effortlessly work out sometimes.
There is much to explore here on San Juan Island. I am looking forward to doing as much of it as I can on a regular basis. It is quite beautiful and pastoral.  The forest areas are dense and thick with black , rich soil and vivid green moss growing everywhere, and I mean everywhere – sidewalks, tree trunks, roofs…..
It really is just like the scenes we've all watched in the Twilight movies.  Super tall trees, moist air, gorgeous meadows tucked away and unbelievable driftwood strewn coastlines. I recently hiked about 4 hours in the woods near an historical area and it was breathtaking (literally,  up steep wooded slopes and to the English Camp graveyard).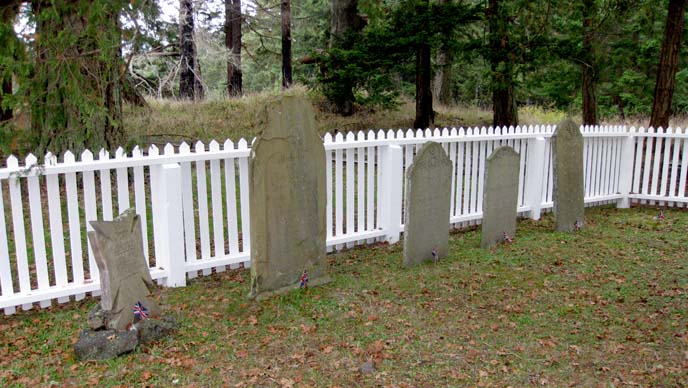 I kept wishing Carlisle Cullen would show up and offer to have me over for dinner – HAHA just kidding (but not really).
Since I drove the 1,466 miles through over 100 miles of fog (I thought I was going to disappear completely in Wyoming), 2 blizzards, 3 icy mountain passes (Idaho and Oregon) and a Ferry ride to this place, it all makes perfect sense as to why I came here. I didn't come here because I could, I came here because I wanted to.
Stayed tuned for the release of my guidebook/memoir "Rubber Tramp – The Art of Sleeping Around (in your vehicle)" available on Amazon Books March, 2017.
"please come and visit – stay as long as you want"
Until next time – Tallyho!